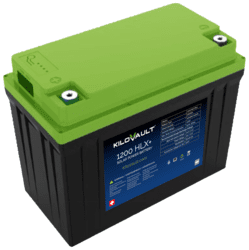 Kilovault 1200 HLX+ 100 AH 12V Heated 12V LiFePO4 Battery
Non-returnable
In stock for immediate pick up.
NEW! The KiloVault™ HLX+ series of solar lithium batteries is the next line of heavy-duty deep cycle batteries for solar applications. The new HLX+ is the first solar lithium battery made for both hot and cold. This premium product offers the features of both the HLX and CHLX series of batteries, at an exceptional value. Key upgrades allow for ease of use and battery bank performance, and premium quality at the same competitive price of earlier models.

Designed with versatility in mind, the
HLX+ serves as a drop-in replacement for lead-acid batteries in a renewable energy system, providing more energy and a higher cycle count with less weight. They also thrive in marine, RV, camper, golf cart, medical device, lighted signage, and off-grid applications. The HLX+ boasts some of the highest surge ratings in its class, perfect for kitchen appliances or large power tools.

Continuing with the success of prior versions, the HLX+ offers built-in Bluetooth and the convenient KiloVault HLX app for Android and iPhone, providing easy monitoring of battery health and performance.


FEATURES:
NEW! One battery that works in both hot and cold environments - even down to sub-freezing temperatures
NEW! 100Ah cells offer double the capacity of the prior version, providing increased power output and efficiency

NEW! Push-button display allows you to get instantaneous state-of-charge readings, giving you a better understanding of the health of your batteries

NEW! Optional HLX+ Bridge (Coming Soon!) enables communications between groups of batteries, providing coordinated charging/discharging/heating cycles, as well as balancing

Flexible - Works in 12, 24 or 48V configurations
Gives You More - You can use the full battery's capacity, discharging it 100%

Long-life - Even after discharging it completely 2000 times, 80% of the capacity remains.

Maintenance Free - No watering required, or cleaning of hazardous chemicals
Smart Investment - Lower cost per watt-hour/cycle and longer lifespan than lead batteries
Safer - No thermal run-away issues as with other lithium technologies

Integrated Bluetooth - KiloVault HLX app makes monitoring battery health and performance easy

7.5 Year Limited Warranty (see DOCUMENTS tab)