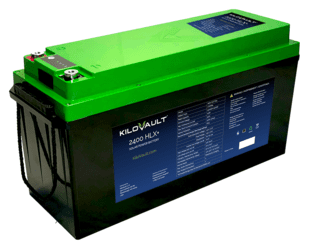 Kilovault 2400 HLX+ 200 AH Heated 12V LiFePO4 Battery
Non-returnable
KiloVault® HLX+ Series™ Deep Cycle Lithium Batteries
The First Battery For All Climates!
The KiloVault™ HLX+ series of solar lithium batteries is the next line of heavy-duty deep cycle batteries for solar applications. The new HLX+ is the first solar lithium battery made for both hot and cold. This premium product offers the features of both the HLX and CHLX series of batteries, at an exceptional value. Key upgrades allow for ease of use and battery bank performance, and premium quality at the same competitive price of earlier models.
Designed with versatility in mind, the HLX+ serves as a drop-in replacement for lead-acid batteries in a renewable energy system, providing more energy and a higher cycle count with less weight. They also thrive in marine, RV, camper, golf cart, medical device, lighted signage, and off-grid applications. The HLX+ boasts some of the highest surge ratings in its class, perfect for kitchen appliances or large power tools.
Kilovault batteries are shipped direct to you and do not include shipping costs. Please call for a quote.