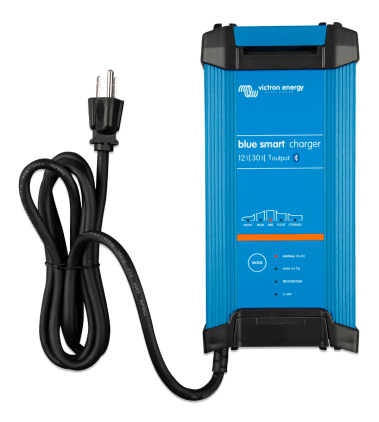 Victron Blue Smart IP22 Charger, 30A 12V
NEW! Victron Energy Blue Smart IP22 Chargers: The new standard of plug-in semi-portable high-efficiency AC-to-DC battery chargers.
We prefer these air-cooled chargers for permanent installations, and recommend the IP65 models when portability is important, and the IP67 model for wet environments.
-High efficiency

-Adaptive 6-stage charge algorithm: test - bulk – absorption - recondition – float – storage
-Storage Mode: less maintenance and aging when the battery is not in use (Pb batteries)

Similar to larger chargers, use your own cables, up to 6 AWG (high-strand DC cable only), and they attach to the charger with built-in clamps.
-Bluetooth Smart

The Blue Smart IP22 Charger has built-in bluetooth connectivity through the free VictronConnect app for your convenience in wirelessly monitoring voltage and current as well as to allow easy settings changes and firmware updates when new features or functionalities are released.
With up to 94% efficiency, these chargers generate up to 4x less heat when compared to the industry standard. And once the battery is fully charged, power consumption reduces to 0.5W, which is 5-10x better than the industry standard.
The Blue Smart IP22 Charger features a microprocessor-controlled 'adaptive' battery health management system. This adaptive feature will automatically optimize the charging process relative to the way the battery is being used.
The storage mode kicks in whenever the battery has not been subjected to discharge during 24 hours. In storage mode, float voltage is reduced to 2.2V/cell (13.2V for a 12V battery) to minimize gassing and corrosion of the positive plates. Once a week the voltage is raised back to the absorption level to 'equalize' the battery. This feature helps prevent stratification of the electrolyte as well as sulfation, a major cause of early battery failure.